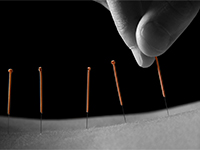 Acupuncture has been used for thousands of years.
I have been performing medical acupuncture for almost 2 decades and have Level 1 Certification through the Acupuncture Foundation of Canada Institute.
The type of acupuncture I perform combines the wisdom of Eastern medicine, which believes in promoting balance or homeostasis of the body and its functions with the anatomical knowledge, and ideas of Western medicine.
As my patient, medical acupuncture is a modality that can be used as a part of your physiotherapy treatment to improve the healing process and decrease pain.  It is applied only within the scope of the physiotherapy practice and will be billed as Physiotherapy.
For acupuncture outside the scope of Physiotherapy treatment, please seek treatment from a TCM acupuncturist or to be billed as acupuncture please find a practitioner that is also liscenced with the College of TCM of Ontario.